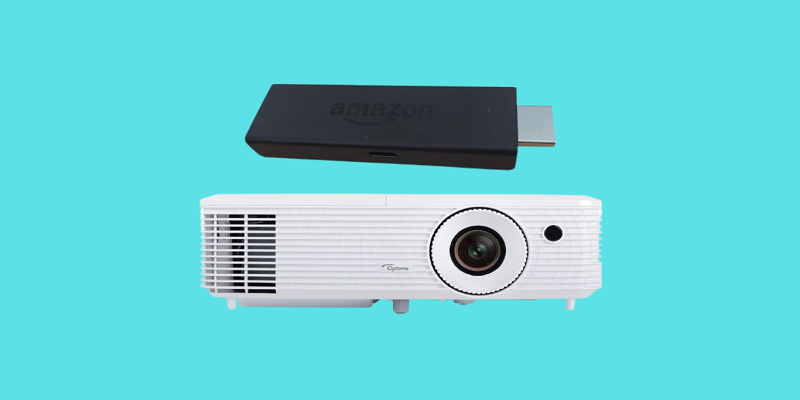 While setting up your home theatre room, you may be wondering which streaming service to use to link your projector to your favorite movie. What if your Amazon Fire TV Stick doesn't work?
Can You Plug A Firestick Into A Projector?
The process of connecting an Amazon Fire TV Stick to a projector is simple. Just a few simple steps are all that's needed to stream from your Fire TV Stick to a 100-inch+ screen. So, in this article we'll know that can you plug a firestick into a projector? Read it carefully! Let's start!
1.) Can Amazon Fire TV Stick work with a projector? 
Yes, you can connect your Fire TV Stick to your projector's HDMI connector and start streaming media right away. HDMI to VGA converters are available for projectors that do not support HDMI.
The Amazon Fire TV Stick may be connected to your projector so that you can use it to view Netflix, Hulu, YouTube, and a variety of other streaming services. Prepare to have a good time with your loved ones and friends as you relax and enjoy the show.
2.) So, how to connect Fire TV Stick to a projector?
A power supply and an HDMI cable are required to connect the Fire TV Stick to a projector's HDMI port (USB). Make sure you turn on the Fire TV and connect it to Bluetooth speakers, a receiver, or any other audio solution you have (an HDMI Audio extractor or wireless HDMI Kit).
During the setup process, you may have noticed that the HDMI signal from the Fire Stick also includes audio. In this case, home theatre technology fixes one problem, but it also introduces a new one.
3.) Connecting a Fire Stick to a Projector Is a Biggest Issue:
At first glance, a Fire Stick may appear to be the ideal option. Amazon's content catalog, 4k streaming, and Dolby Atmos audio are all included in the package. As the device is just the size of a small candy bar, it can easily be attached to a projector for display. 
This eliminates the need for running cables throughout your home. Even though the Fire TV Stick comes with its own remote, if you misplace it, you may use a standard remote control to operate it (our tutorial). What could be better? The most difficult element is figuring out how to playback the audio.
4.) Getting the Sound to an External Audio System:
What you're experiencing here isn't a problem with the Fire Stick itself, but rather with your projector. A projector's onboard speakers can be used as its own audio solution or the projector might have no onboard speakers, requiring you to design your own solution.
This indicates that you have a considerably more difficult task ahead of you. When using the Fire Stick's Dolby Atmos sound, you'll require to surround sound speakers, and those speakers will need to be fed via the projector.
5.) Using Bluetooth:
Using Bluetooth speakers is a simple and easy way if you have one. Simply open the Bluetooth pairing settings on the Fire TV, put your speaker in pairing mode, and then test the system to see if it works.
If you want to use Dolby Atmos in a surround sound system, you'll first need a Bluetooth receiver. After then, the steps are the same as for using Bluetooth speakers on a wireless network. As you can see, Bluetooth is the quickest and easiest way to connect your devices.
6.) Using an HDMI Audio Extractor:
In the first solution, an HDMI Audio Extractor is used to extract audio from a projector. It's not too difficult to figure out how to use these units. To illustrate this point, look at the Tenson HDMI + Optical Toslink (on Amazon): It has HDMI in and HDMI out, as well as SPDIF/Optical out and a simple 3.5mm jack.
In order to connect the Fire Stick to the projector, all you need to do is plug the Fire Stick in and run a short HDMI cable from the HDMI out. Running power to the extractor and the Fire Stick is a little more complicated, but it's nothing out of the ordinary.
7.) Using a Wireless HDMI Kit:
Wireless HDMI kits are a one-stop shop for all your projector-related problems, and you can use them to fix a wide range of issues. That's also true of the speaker issue with the Fire TV. A Wireless HDMI Kit does exactly what the name implies: it allows you to take an HDMI signal and send it elsewhere without the need for wires, with versions like the Iogear GWHDKIT11 (on Amazon) even capable of handling 4k data.
Final Thoughts:
A wide variety of projectors, especially those with HDMI ports, are compatible with Amazon's Fire TV Stick. The great majority of FireStick devices can be used with projectors through the HDMI connector, unlike Roku's collection of players. They will need a converter of some kind, such as an A/V or VGA to HDMI converter, if they don't have an HDMI port To ensure that your Fire TV Stick is recognized and read by older projectors, adapters aren't as good as converters.
When connecting your FireStick to a ceiling-mounted overhead projector, you'll need to be careful with extension cables and splitters. Due to signal attenuation, it is necessary to use fewer connections between the FireStick and the projector.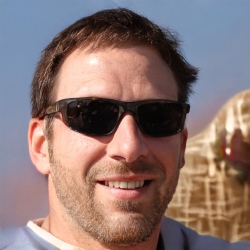 Latest posts by James Andrews
(see all)