A great outdoor projector can take your outdoor party to the next level by giving you crystal-clear and cinematic visuals in your backyard or patio.
You can recreate the outdoor theater experience using a top-quality projector. Still, you may have to choose a different type of outdoor Projector according to the size of your backyard or the area where you intend to use the Projector.
Smaller outdoor spaces require a short-throw projector that maps out projections on the Projector from a super close distance. Similarly, for larger outdoor areas with large gatherings like meeting family and friends outdoor, new year preparations, Christmas party, trips to the park, or live streams of sports or movies outdoors may require a giant projector with a bigger screen size and resolution that we are going to discuss later in this article as well.
Best Budget Projector For Outdoor Movies
Generally, outdoor projectors are expensive, but there are the cheapest outdoor projectors available on the market to help you buy a tremendous budget-friendly projector to watch movies while traveling or camping. Depending on your requirements, if you're also on a tight budget, this is the list of entirely affordable outdoor projectors ranging from $1000 to $500 or even less.
From this list, you will be able to select the most efficient cheap outdoor Projector for viewing movies under the moonlight without putting a dent in your wallet.
Although all of these outdoor projectors are exceptional, our favorite budget outdoor projector is ViewSonic PX701HD That is not only a tremendous portable outdoor projector that comes in a budget-friendly price tag but allows you to enjoy entertainment and games at a cinematic level. It has the excellent image quality and can be a treat for a large crowd, making it the best budget outdoor projector for this list.
Are you looking for something else? Let's dig deeper to find a high-quality outdoor projector that can satisfy your needs.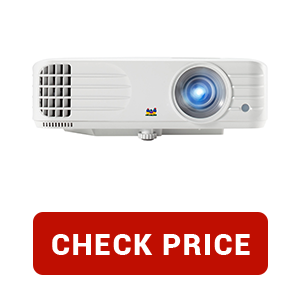 The top cheap yet quality Projector on the list is ViewSonic PX701HD, a decent outdoor projector that gives a projection of 300 inches. Plus, it supports D.L.P. technology ( Digital Light Processing: A Technology in which Projector beams light through a color wheel, reflection mirrors, and finally through the lens.) and offers a resolution of 1080 pixels along with a brightness of 3500 lumens that makes it perfect for daylight viewing.
It comes with a highly responsive remote control to handle all the settings while sitting on your outdoor chair. The remote control allows you to change the display settings and anything you require by pressing a few buttons on the remote control.
Moving on, the ViewSonic PX701HD offers the most extended life lamp with a life of 20,000 hours. Plus, the 16MS input latency is not the greatest but not harmful as well, and finally, the Projector offers superCool technology giving you outstanding image projection.
Regarding compatibility, the ViewSonic PX701HD can be paired with Chromecast, Roku, and Fire T.V. stick to make sure you can enjoy anything you want on the Projector, like watching a T.V. but outdoors.
Finally, the ViewSonic PX701HD is the best bang for the buck projector that checks all the boxes to make your outdoor home cinema or gaming arena an unforgettable memory. All in all, this is the top outdoor Projector with an economical price tag that you should invest your money in.
Pros
It weighs only 5 pounds
Supports 3D technology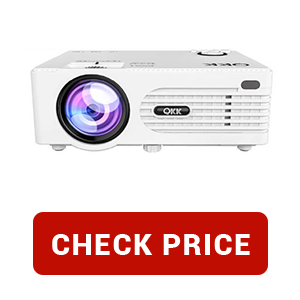 Another fantastic outdoor projector on our list is Q.K.K. QK03 Projector that offers excellent value for money. This can your affordable home entertainment device comes with a USB port that allows you to connect with a smartphone ( Android or iPhone ) with the help of an HDMI adapter to use media over Projector from your smart device.
The Q.K.K. QK03 Projector is a good option for people on a budget. Honestly, it is affordable projectors at reasonable prices that can give you a home cinema experience without emptying your bank.
Regarding image quality, the Q.K.K. QK03 Projector comes with a 1080p resolution that's great, but getting a projector with a higher resolution with a native resolution of the smartphone will also result in blurred images, so make sure to check that.
Other than that, the Projector offers a 6500 lumens brightness level that's the highest for any projector. It directly means that you can use the Projector in daylight under the sun without missing any details on the screen, thanks to the highest brightness. At this low price point, this Projector can do wonders, and you would call it the best budget projector for outdoor movies.
Furthermore, it brings Built-in stereo high-quality bass-reflex speakers for dealing with noisy outdoor areas. You can enjoy exceptional cinematic sound quality, which is a great way to liven up an outdoor party. For a bigger audience, you may have to use an external speaker.
Finally, the Q.K.K. QK03 Projector brings a dual-fan cooling system that can keep the whole projector temperature under control even in challenging weather situations to make sure you keep getting the most excellent throw for your favorite movies or games.
Pros
Connects with T.V. stick
It can be connected with smartphones
Highest brightness
Cons
Projector screen quality is not excellent, which is typical for this budget price tag.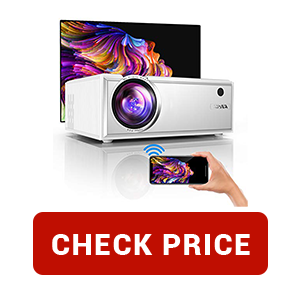 The next best budget outdoor movies projector for entertainment on our list is YABER Y61 which is a pocket projector that is an excellent unit at an affordable price and offers excellent value for the budget as well.
As the name suggests, it's a mini projector that means it is going to project a smaller screen that makes it suitable for couples, or a group of few people who are camping in forests and trying to watch outdoor movies, well, they can enjoy outdoor cinema like never before.
The YABER Y61 offers 108p resolution, which is excellent for large crisp images and outstanding views. You can enjoy the impressive image quality, and the SuperCool technology can make the image experience more beautiful as well.
Other than that, the Pprojector's supports brightness is 6000 lumens, and as you know, you can do wonders with this much brightness, and in the dark, you will be getting precise crystal details of anything you look at on the screen with this brightness.
That is not all; the YABER Y61 supports wireless LAN, which means you can access networks without any wired connection. On top of that, it brings a truckload of streaming and entertainment applications like Netflix, Skype Miracast, and so on.
Best of best is the wireless connection and HDMI connection with P.C. through an HDMI adapter.
As this is a more miniature budget outdoor projector, it is entirely affordable for even 500 or less than that. However, still, it is the best quality model at a reasonable price.
The mini size makes it perfect for carrying around, and it also has a remote control rather than voice control, and you can easily configure the Projector for your needs through the remote control.
Finally, the YABER Y61 WiFi Mini Projector offers a lamp life of 100,000 hours. It a long time for a projector to last, and the aspect ratio of 16:9 gives you a cinematic viewing experience.
Overall, the YABER Y61 WiFi Mini Projector is an excellent alternative to hefty-priced projectors, and without spending hundreds of thousands of dollars, you can just spend less than one grand 1000 and get a king of affordable Projector that gives you a clear picture of 1080p resolution and more.
Pros
Can handle 4K UHD resolution
Pocket-friendly
It can be used with a wired or wireless connection
Cons
The built-in speaker is of less quality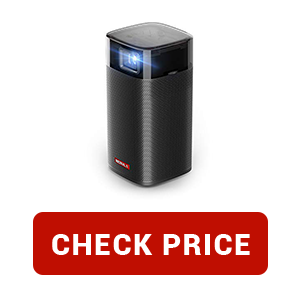 If you want budget projection, then Anker Nebula Apollo is on the top of our list. The Anker Nebula Apollo is the cheapest yet powerful and quality Projector that you can use outdoors to enjoy movies and games.
The Anker Nebula Apollo comes with a handful of features and an image projection of 100 inches for all media types, which is excellent for such a small projector for outdoor movies. Plus, it has the option to connect with Bluetooth to other devices and through Miracast and Airplay.
Compared with all the projectors reviewed above for outdoor movies, the Anker Nebula Apollo features a touch-based control panel that allows you to interact with the Projector smartly and play with settings through gestures. There is a slider control for volume, and the built-in speaker delivers excellent sound quality in noisy outdoors.
Furthermore, the Projector can be controlled with the Nebula app that you can install on your smartphone to control the Projector through phone or any other smart device.
The brightness of this Projector is 200 ANSI lumens which is not that much and not ideal for daylight viewing but perfect for night viewing, and you won't even notice you are sitting in darkness with this Projector.
The downside of this Projector is the lower resolution of 854 x 480 that is not good to watch high-quality movies or play competitive games on a projector. However, you will get desirable results with this much resolution but don't expect too much. From one point, this is justified by the lower price tag as it is the only Projector that you can get for a few bucks of dollars.
Overall, this is the Projector that won't be pinching your budget and compared with higher-priced models, it gives you everything, and that's the selling point of this Projector. This Projector costs much less and is a great model at a low price point.
Pros
Great built-in speaker
Great usability
Easy to control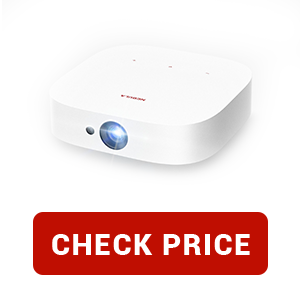 As the name suggests, the Anker Nebula Solar Portable is a great outdoor projector for movies that feature LED technology to project images on the projector screen, and on top of that, it uses solar panels to charge its batteries. The best part is that the solar charging allows you to use the projector for unlimited time without worrying about the power source.
The projector weighs just a few pounds that you won't feel anything while carrying it. Plus, the projector offers you the 1080p resolution for the images which is neither the greatest and not the worst but for such a small projector it is worth it in such a low price range.
Moving on, the projector offers wireless connectivity and has an HDMI port as well which can help in connecting your laptop to the projector, Also it is a great option for you to connect your smartphone with the projector to get a screen of 120 inches.
Furthermore, this projector brings built-in speakers and they are not your ordinary speakers but 3W high-quality decent speakers to deliver sharp audio quality for all your movies and games.
The brightness is 400 ANSI lumens which are sufficient for viewing movies and games at a great brightness rate and you will be able to enjoy the outdoor cinematic experience without spending a dime.
Finally, the projector comes with 5000 Mac rechargeable batteries which you can charge with solar panels that are also included in the package, and once fully charged, the projector will last for around 3 hours that's enough to enjoy a full movie.
Overall, this is the best projector for streaming outdoors and outdoor movie nights. You can get this outdoor projector on a budget price tag to enjoy photos, videos, and reels in the open sky and the best part of this projector is that it runs on solar panels allowing you to enjoy full videos or movies of Hollywood without worrying about the power source.
Pros
Bigger screen size
Several connectivity options
Built-in battery
The next best portable and compact projector for the outdoors on our list are ViewSonic M1+, a nice-quality outdoor projector that can easily fit in your pocket, and this little device packs some serious power to give you the incredible cinematic viewing experience at night without spending a lot of money.
The ViewSonic M1+ looks small but it can last for around 15,000 hours and this much lamp life for such a budget outdoor projector for movies is something to think about.
Furthermore, the ViewSonic M1+ is based on DLP and LED technology as mentioned earlier, the DLP technology uses a color wheel to throw image projectors on the screen. Plus, the resolution of the projector is 480 pixels which are not great for movies or games and the 400 lumens brightness is also lower for such a projector but it can give you a great viewing experience from close sitting.
Other than that, the projector features a wireless port allowing you to eliminate the hassle of managing cables and connect different devices with your projector like a tablet, smartphone, laptop, MacBook, and so on.
The image quality is great at nights but not good at daylight and therefore you should use the projector in low light situations but you can still use the projector indoors and outdoors as you will be able to get more clarity and crispness at night.
As it is a battery-powered outdoor projector for movies, it will last for around 2.5 hours and when running on Eco mode, it will be capable to operate for 6 hours and this projector offers you the lamp life of 30,000 hours enough to last for a decade but it depends on the usage.
If you are going to use the projector occasionally for parties or movie nights then the life expectancy can be in demand and if you are going to use the projector for daily presentations or similar activity then the life expectancy will depend on the hours of use.
Overall, this is the premium projector for outdoor movies that put no dent in your wallet, and in this competitive price tag,, it gives you a plethora of features to enjoy. Although this is not optimized for 4k image quality it is justified by the price tag. If you can spend a considerable chunk of money on this projector, it will be worth spending the money. All in all, this is your drive-in theater or home-theatre projector that is designed to handle the toughest weather and has great contrast that makes it superior for indoors and outdoors. Overall, it is a great projector to enjoy movies outside of the home.
Pros
Great build quality
Higher battery life
Built-in stand to reduce focus problems
Cons
Unable to mirror to screencast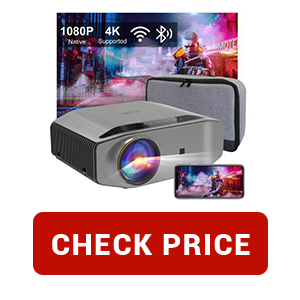 Now, this is the projector that costs you little to no money for the features it brings. This is the first 4k optimized outdoor projector for movies and delivers improved performance, thanks to the higher technologies used in it to make it the amazing projector for outdoor movies.
The Artlii YG620 Pro Energon 2 is a pocket-sized projector that uses DLP technology to split colors on the screen and it's better than the Lcd technology that uses a prism to split colors on the screen. Furthermore, the Artlii YG620 Pro Energon 2 offers 340 ANSI lumens which are equal to 5000 lumens of LCD and this is more than enough to get decent daylight viewing experience.
The contrast ratio is 1000:1 which is ideal for such a low-budget outdoor projector for movies and the best part is that this particular projector comes with an 8GB  internal memory card allowing you to store your audio or video files flawlessly.
Not only that, you can enjoy crisp audio quality with 5W speakers that are built into this projector, and other than that you can connect Bluetooth speaker as well and there is an option to connect wireless headphones as well with Bluetooth technology.
This projector gives crisp images with an amazing contrast ratio and you will enjoy the cinematic visuals. The bigger resolutions result in detailed images and incredible clarity and that's what you are paying for. Your fellows at the party will be enjoying the sharpest and brightest visuals for their favorite shows and movies.
The LEB bulb is designed to withstand tons of time and gives you the life of 100,000 hours and no other projector in this price range is offering this much life. Finally, the projector features a great cooling mechanism to keep the system cool when the projector is running for long hours and ensures the meltdown never occurs which is normal for a projector for long gaming sessions.
All in all, the Artlii YG620 Pro Energon 2 is the ideal budget projector for outdoor movies and it has all the bells and whistles that you expect from a great projector. This versatile outdoor projector can treat crowds of people with enjoyable protected image projection and has advanced features in such a short price tag that you will be able to use it in narrow or bigger gardens without any hassle. Its sound system is also great so you may not have to drag the sound system outside. The best part is the Amazon Alexa compatibility allowing you to control the projector with voice commands while you flip sausage on the barbecue.
Pros
Good Build Quality
4K Ultra HD.
Great image quality.
Nice sound clarity.
Cons
It is not Dolby digital supported.
Conclusion
Finding a quality projector which comes under budget is quite a challenging task. We hope that through our list of Best Budget Projector For Outdoor Movies you will be able to find the right one that fits your needs and budget.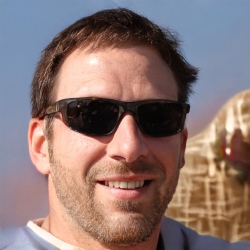 Latest posts by James Andrews
(see all)