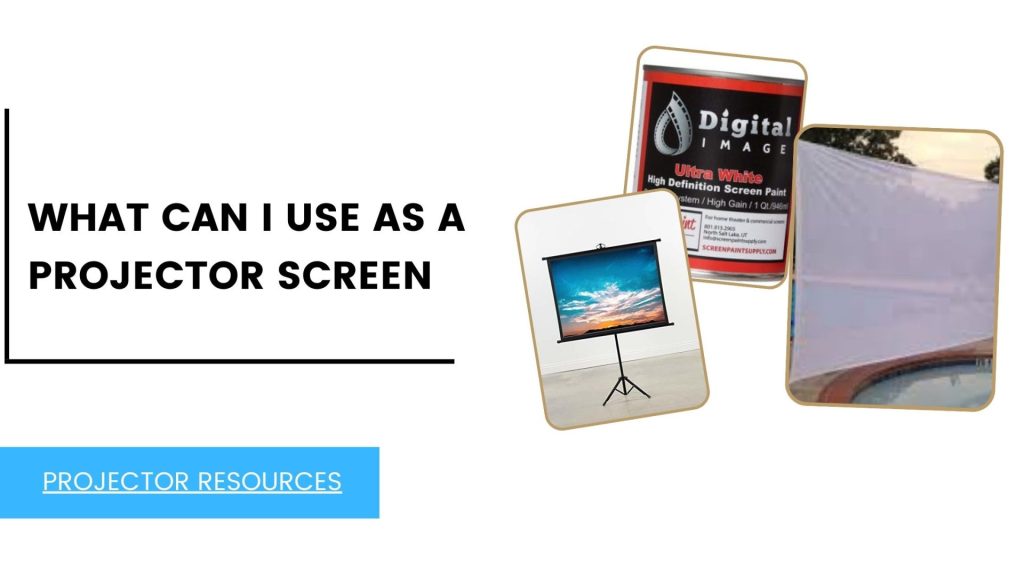 Before digging deep into the alternatives and kinds of projector screens, let's first understand the core meaning of what a projector screen is all about. Well, the word projector is self-explanatory but still, there are a lot of technical details that most of us don't know.
Reading this article till the end would equip you with the core competencies of knowing all about the projectors and their types in a matter of a few minutes only.
So, let's get started to know about the concept of a projector screen.  In simple words, a projector is basically a source to display any image/video to a plain surface. There are various ways that users adopt while installing a projector set-up. Some may install a permanently painted screen similar to a movie theatre while others may use foldable rising structures mostly used in offices for conference meetings. Alternatively, outdoor and open-air screens are also widely used for entertainment purposes.
Types of Conventional & DIY Projector Screens:
The projector screens vary in two types:
Type of screens
Type of mounting methods
Projectors based on screen types:
Below is the checklist of projectors varieties based on the screens: –
Electronically operated screens:

Permanently fixed screens

Portable screens

Expandable screens

Screen paints for projectors

DIY Projectors
you can also have different color screens as well. We also have a detailed article on the two most common types of color screen that people use.
Projectors based on wall mounting:
The procedures of how the projectors are mounted on the wall vary differently. Below are a few quick examples:
Ceiling-mounted projectors

Floor projectors

Tabletop projectors

Tripod projectors

DIY
Cheap projector screen alternatives:
The conventional/ electric projector screens available in the market are very costly and everyone cannot afford them. However, various low-cost ways are available that can be used easily to enjoy a big screen at your desired place.
Below are some of the low-cost and cheap DIY ways which can be adopted to enjoy the big screen:
Empty/Blank wall:
One of the most cost-effective and easier alternatives of a projector screen is the plain/blank wall.
You can use any plain wall to project the images/videos and have them displayed on the wall very easily.        
Plain Bed sheets:
The cheapest and easiest projector screen could be your bed sheet. White bed sheets are available in almost every house. All you have to do is to find a suitable hanging accessory (this could be two nails nailed at two corners of the wall or anything), simply hang the sheet over the accessories and you are good to go.
Also Recommended : How to make a projector screen with a Sheet?
A few things should be made sure of while using a bed sheet as a projector screen. The bed sheet should be 100% plain without any print on it. Secondly, the bed sheet should be wrinkles-free to give you the best display.
Shower curtains:
A shower curtain could be an ideal DIY item to use as a cheap alternative for your projector screen. Usually, shower curtains are available in any home store at less than $5 and white color is commonly available.
The material of the shower curtain is stiffer than a bed sheet fiber hence providing a wrinkle-free surface for the projector.
White door of Garage or Fence:
Imagine you throw a big success party for your friends and family in your outdoor garage or garden area and you want to play any event-based video or some music as an add-on to the party, nothing could be better than using a clean white wall of your garage or fence of your garden to serve the purpose.
White Board:
While you are spending some quality time with your kids at home and you want to show them something interesting, the whiteboard in your kids' room could be an instant and ideal available projector screen to enjoy the moment.
Cardboard painted in white:
This is one of the best and most cost-effective projector screens you may ever think of. Cardboards/ boards/ hard chart papers are available in almost every house. The cardboard boxes can be cut into flat boards, joined with tape according to the required size, and can be easily used as a projector screen.
If you can paint the cardboard in white color, that would be a plus however, it can be used in its original color as well but the quality of the display will be affected. you can also use projector screen paint to transform any good place in to a projector screen. you can easily use them on many things like cardboard, any plain wall or painting a sheet of plastic.
The best part is, that you can very easily hang it or paste it to any wall with double tape, glue or cello tape.
Chart Paper/sheets
Similar to cardboard, white chart papers pasted on the wall with tape can be an extremely handy and smooth-surfaced projector screen.
Big rocks / cliffs
This might sound strange but this idea would always work if you are on a camping tour with your friends and while having wonderful conversations on a bonfire night. When suddenly you come up with an idea that you want to instantly share with the crown but lack the proper display doesn't allow you to seize the moment. The idea is to look for any big rock nearby, cover it with a white sheet or any white fabric and simply use it as a very cheap alternative for an outdoor projector screen.
Ceiling
This amazing idea would always work for any indoor event. Imagine you are in an important meeting with your client in a coffee shop or a restaurant. While having your food, your conversation takes the direction of an important business discussion and you want to show your client an important business quotation from your mobile. You can always use the ceiling for the projector and win the moment. 
Any plain white wall
You would find walls everywhere. The idea of using a wall as your projector screen would never fail in any circumstance.
You can give visuals to your conversations anywhere anytime.
Wrapping paper
Wrapping paper can prove to be an ideal alternative source for a screen projector. The good part is the size can be adjusted as per your requirement. You can very easily tape it anywhere with a simple cello tape.
But there is a drawback, the paper is very thin and fragile and can distort very easily. Hence it is advised to use wrapping paper for indoor purposes and not outdoor because the outdoor environment can be unpredictable. It can be windy or rainy and the wrapping paper won't stand.
Windows
 For small and medium-sized displays, your window screen can serve the purpose.
 Since most of the windows in any house/office are of high-quality glass/aluminum, the quality of the screen could be really impressive using them as a projector.
Blackout Cloth:
Blackout cloth is basically made to block the light and is very thick and stiff. The front side of the blackout cloth is made of very fine and thick fabric that cannot be distorted easily unless an external force is applied, whereas the back side consists of foamy material for the purpose of blocking the light.
The light-blocking feature would help the image to be displayed at highly defined quality because it would not allow the waves to pass through the surface hence displaying the best image on the screen.
Moreover, the material being very thick would not create any wrinkles. Just pull the cloth very tightly from the corners and fix it with a frame or nail directly into the wall to make a plain and smooth surface.
Backside of a photograph:
The material used in the photographic paper is made in such a way that it doesn't allow the light to pass through it hence making it an ultimate alternative for projector screens.
Also Recommended : How to Clean a Projector Screen?
Frequently asked questions:
1- How can I watch something on a big screen if I don't have a projector screen?
There are various unique ideas where you can very easily have a beautiful display on any surface like walls, rocks, sheets, papers, and many more. All you have to do is to think out of the box and look around the things that can be used as cheap alternatives for projector screens.
2- Can I use a homemade projector screen in daylight?
It depends upon the material you are using as an alternative to your projector screen. For example, using a blackout cloth would store maximum image quality that can be displayed even in daylight and vice versa.
Conclusion:
Moments and memories are more precious than money. The phrase '' money can't buy happiness'' is true to some extent but the actual happiness lies in spending quality time with your loved ones. Sometimes instant ideas can make or spoil a moment. Instead of spending lots of money on conventional and permanently fixed projectors, you can use the above cheap indoor/outdoor projector screen alternatives to make little things the best things of your life.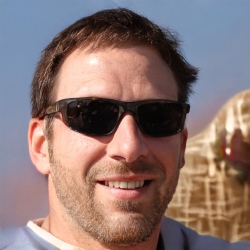 Latest posts by James Andrews
(see all)