Though televisions are more commonly used as compared to projectors, there comes a time when you feel the need for a large screen for amusement. Be it a movie night or a gaming tournament, projectors are a great choice in every situation.
To fulfill the different needs of the consumers, tech companies have manufactured different types of projectors. The ultra-short throw projectors are one of the most widely used types that provides a television-caliber experience but, on a bigger screen.
To satisfy the needs of gamers, projectors let the details of your games show in cinematic quality, making your games shine with truly rich and colorful visuals. The best thing about these devices is that they are compatible with many gaming consoles that allow you to enjoy modern video games.
Comparatively, a traditional large-screen television costs thousands of dollars whereas, you can easily find the best ultra-short-throw projectors for all budgets – all of which would still be lesser or equal to the traditional TVs in price.
The ultra-short throw projectors are the new talk of the town that comes with numerous benefits. From flexible installation for recreating a cinema experience in the comfort of your home to being suitable for hardcore gamers, these devices offer it all. 
Choosing the best ultra-short-throw projector for gaming out of all the available brands and types would do nothing except for jumbling up your mind. Therefore, to help you with the choice, we have done due diligence and found the top choices. 
If you are excited to know about it, we suggest you read the article till the end and unfold all the surprises.
Why An Ultra-Short Throw Projector? 
Simply put, the throw distance of a projector is determined by the assembly of its lens. However, the throw ratio calculates the distance between a projector's lens and the screen.  On this basis, there are three types i.e., long-throw, short throw, and ultra-short-throw projectors. 
Long-throw requires a ceiling mount or placement on a shelf behind the viewing area because the placement of the lens doesn't allow it to project the image from less distance. This causes more shadows and interruptions during the movie, presentation, or gaming session.  
Whereas, a small apartment or small room is enough for short-throw projectors to project the visuals at a throw ratio of 0.4. Since these devices require less distance from the screen to get a full image, you just need to mount it from a short distance away for exceptional contrast ratios. 
Note: To achieve the optimal throw ratio, a standard projector requires a distance of 10-15 feet whereas, for short throws, you just need to keep it 3-5 feet away. 
As far as the ultra-short-throw projectors are concerned, these are the projector with wide Angle lenses having a throw ratio of less than 0.4. For these devices, there is no need for a large dedicated room as you can place the projector right under the screen at a distance as short as half a foot i.e., 6-inches only. 
Due to the projectors mounted at an extremely less distance, nothing comes in between the beam of projected light, and hence, the show of image is solid.
UST projectors can deliver massive, high-contrast, sharp, and crisp images with vibrant and bright colors. Additionally, the Installation of UST projectors is much easier and organized that you don't have to grapple with running wires across the room.
Note: A major issue plaguing many projectors is the lagging issue and that is the reason why some UST models are unsuitable for gaming.  
Regardless of the projector you have, all you need to have is a blank light-colored wall to display crazy pictures. 
Best Ultra-Short Throw Projector For Gaming
To provide you with a better understanding of how these products will benefit you and why you must consider these, we have compiled a comparison table below. Make sure you glance through it carefully, understand the important features, and compare all the products. 
This will help you in picking the one that offers the best features right according to your requirements. 
Description:
Searching for the Best UST 4K Projector for Replacing Your TV? The Optoma Cinemax P2 is an exceptional choice that provides clear, smooth images and minimizes input lag. Let's discuss how this feature-filled device offers a great bang for your buck. 
Features:
Create a home theater experience with minimal fuss using the Optoma Cinemax projector. Flaunting a very sleek and elegant design, the device measures about 15 x 22.1 x 5.1 inches in dimensions and weighs around 24 pounds. Since it is not highly portable, it would be best to mount this device once and for all. 
For a cinematic and immersive gaming experience, the 4K ultra-high definition pixel-shifting resolution produces an extremely bright, color-accurate image. Additionally, the projector is capable of producing the best color contrast with no distortion i.e., 2,000,000:1. 
3,000 lumens have the ability to light up any screen with a big screen and produce bright, beautiful, and best pictures. Integrated with a six-segment color wheel, the Cinemax P2 brings the finest cinematic experience and gaming views to your home. 
Furthermore, the projector provides audio quality on par with soundbars which is a combo of two woofers and two full-range drivers. If that was not enough, the device also features support with a 40W Dolby Digital 2.0.
Performance:
The incredible performance of this device makes it a fantastic all-around ultra-short-throw projector. For performance, it sports a lamp life of up to 30,000 hours whereas, for consumers' peace of mind, the product is backed up by the manufacturer's warranty. 
For the labor and parts, the company offers 2-year limited protection whereas, for light source protection, it offers 12,000 hours or a 5-years warranty.
Pros
Six-segment color wheel

Great color reproduction

Dolby Digital 2.0

No

lag for gaming
Cons
Slow power-up

Limited 120" size
Verdict:
Making some modest yet amazing performance, the Optoma Cinemax P2 is indeed one of the Best Ultra-Short Throw Projectors for Most People. So, if you plan on playing a game or watching a movie on a big size TV, go ahead and opt for this amazing projector. 
Description:
Featuring enhanced visual processing and smart new touches, the LG HF85LA is the best cheap ultra-short-throw projector that ensures exceptional performance and the best price-to-screen-real-estate ratio.
Features:
This model from LG is a highly portable one that weighs just 6.6 pounds. Despite being a small device, it has the capability to generate a massive 100-inch or greater image with a throw ratio of less than 0.4. 
The LG HF85LA is absolutely worth it for the excellent image quality and visual at a native Full HD resolution of 1920 x 1080p. With an incredible 150,000:1 contrast ratio, see the darkest shadows and brightest details to get the most cinematic experience. 
Equipped with 1500 ANSI lumens, the brightness level isn't as powerful as compared to the other models mentioned on our list. The projector comes integrated with the LG Smart TV platform and Magic remote that enables the users to discover and navigate through the premium content. 
Generally, UST projectors include great onboard speakers but this model, unfortunately, lacks built-in speakers. Therefore, you will have to connect your own external speakers to enjoy the sound. The good thing here is that the projector has a Bluetooth connectivity option for headphones, wireless audio, or external sound sources.  
Performance:
Powered by two triple-A or AAA batteries, it provides enough power to the laser lamp that it gives an incredible viewing time of 20,000 hours. The projector makes it simpler for you to connect your smartphone with it and utilize android onboard for streaming from apps.
Pros
Powerful performance

Longer laser lamp life

TruMotion technology

Smart TV capabilities are pretty good
Cons
Incompatible with iOS 

No built-in speakers
Verdict:
If you are looking for a projector that displays visuals where colors are punchy and vivid with good brightness, the LG HF85LA could be it. But make sure you have made arrangements for the speakers since the projector lacks them. 
Description:
Up next, we have another Best High-end Ultra Short Throw Projector from LG that can level up the game of your gaming experience without spending a fortune. Because of its highly impressive features, it is considered one of the best gaming projectors on the market ideal for fast-paced gaming.  
Features:
Flawlessly flaunting a very sleek and contemporary look, the HU85LA is a powerful projector capable of displaying some serious eye candy. With this projector, you can get as large as 120-inches projection from a very less distance of 7.2 inches. If you stay just two inches away from the screen, you will still get a reasonable 90-inch projection. 
Being a 4k short throw projector, this device delivers visuals at a whopping resolution of 3840 x 2160p whereas, its HDR 10 compatibility guarantees the sharpest and smoothest pictures. To cast a picture on your dedicated ultra-short-throw projector screen, the contrast ratio produced is a stellar 2,000,000:1. 
The brightness is plenty for your gaming needs as well as watching movies, thanks to the 2700 lumens that are powerful enough to project even in a lighted room. Additionally, the device is integrated with several technologies such as LG ThinQ AI, Alexa voice control, and Google Assistant. 
Performance:
The lamp life of up to 20,000 hours is responsible for a decent performance and is fairly convenient with playing 4k gaming. Additionally, the device is also equipped with a built-in streaming ecosystem for a well-rounded high-end short-throw laser TV.
Pros
Comes with a remote control

Incredibly bright

Superb picture quality 

Affordable for a 4K projector
Cons
No 3D support

Lack of lens shift
Verdict:
Finding projectors capable of broadcasting a 4K image that is also a great option specifically for gamers isn't really a piece of cake. But, the LG HU85LA is a dream come true since its throw ratio is perfect for gamers and it tackles everything from movies and TV to sports and gaming with aplomb.
Description:
There could nothing be more exciting than finding the best top budget 4K UST projector on the market that ticks all the boxes you require. The OMMC 4K UHD projector is probably a high-value projector that offers an immersive experience painlessly and affordably. 
Features:
First off, the projector measures about 7.6 x 2.7 x 1.7 inches in dimensions and 21.6 pounds in weight hence are known to be a lightweight model. You can mount the device in several ways such as tabletop, back table, ceiling, or back ceiling right according to your preference. 
When it comes to visuals, this OMMC projector delivers a jaw-droppingly gorgeous picture and a fantastic projection experience. Catch on every single detail with the razor-sharp images and vibrant colors produced due to the 4K Ultra-HD resolution. 
Just like most short-throw projectors, this one is also equipped with a reasonable brightness level i.e., 2500 ANSI lumens that efficiently works for lights-on viewing. There is also a baked-in operating system for streaming from apps like YouTube, Netflix, Amazon Prime, and Hulu.  
For a high-fidelity sound, the projector is integrated with surprisingly loud built-in speakers able to fill a room and offer clear and textured audio. On the other hand, to meet your connecting needs, there are seven different multimedia connecting ports. 
Performance:
To ensure a stunning performance, this projector boasts advanced laser light technology which has a brilliant lamp life. On average, the viewing time on this device ranges between 20,000 to 25,000 hours.
Pros
Great 4K UST laser projector

Android 8.0 OS version 

Great sound quality

Good for streaming purposes

First-rate projectors
Verdict:
The OMMC 4K UHD is an outstanding 4K UST projector that packs immense features useful for movie nights or situations where you have to compete with your friends in a competitive game.
Description:
Epson has been a prominent name in the tech industry and is renowned for different kinds of electronic equipment. When it comes to the projectors, Epson manufactures equally amazing devices in this category without compromising on the quality a bit. The Epson EpiqVision Ultra LS500 is just a single example of Epson's fantastic creations. 
Features:
The LS500 is a pretty slick device that complements your TV room whereas, its lightweight and wall or ceiling mount capabilities make it even easier to adjust the device once and for all. The most impressive feature of this projector is its ability to project stunning visuals up to 130 inches. 
With the 4K UHD resolution and 2,000,000:1 contrast ratio, there is no chance to doubt the image quality of this projector. Having that said, the visuals displayed are ideal for viewing in a bright environment whereas, the overall picture quality is phenomenal with exceptional color accuracy. 
What makes this device the best ultra-short-throw projector for gaming is the 4000 lumens. This stellar brightness level is not only bright enough for daytime viewing but for literally any environment regardless of the surrounding lights. 
A gaming setup isn't complete without a good all-around audiovisual experience therefore, there are speakers integrated into the projector that offers impressive sound quality. This built-in audio works well for a self-contained home theatre experience. The device also includes an audio return channel (ARC) for receivers and soundbars. 
Performance:
To provide you with top-of-the-class performance, multiple technologies are utilized in a single projector. From UST Laser-Array Technology to 3-chip 3LCD technology and a lot more. 
You can also try connecting a dedicated streaming box like the Chromecast with Google TV, Apple AirPlay casting, or NVIDIA Shield. Moreover, due to extensive compatibility, the projector works great with PCs, business presentations, media players, and gaming consoles.
Pros
3-Chip 3LCD technology

Laser array technology 

Excellent UST 4K laser projector

Unparalleled picture quality

Android TV streaming dongle
Cons
Doesn't have alignment features

No options

for multi-channel audio
Verdict:
All in all, the Epson EpiqVision Ultra LS500 is a mighty choice that is ideal for perfect for action-packed gaming sessions or fast-action sports events as well as movie sessions. It has an image processor that reveals extraordinary details and lets you generate differently-sized images based on its placement.
Description:
It is hard to not love everything about the Optoma GT5600. The main reason is the integration of almost all the incredible features that you expect in a top-notch projector. Whether you wish to enjoy 3D games or use it for single-player games and certain slower-paced video games, the device is suitable for all. 
Features:
With a super easier installation, you can set up the projector in no time. Its wall and table mount compatibility along with the cable management feature make it a tidy-looking projector. Considering the features, this device can double as one of the best gaming projectors, on top of already being an exceptional home theatre projector. 
Since it is a 1080p short throw projector, you get sharp visuals at a Full HD resolution. The contrast ratio, however, isn't as exceptional as other models on the list i.e., 20,000: 1 but offers decent shades or blackout curtains and is acceptable for die-hard gamers. 
The stunning 3600 lumens are highly suitable for use in a bright room or daylight without fading away from the actual color of the visuals. The projector has powerful picture calibration and hence provides an amazing depth and object separating whereas, the 3D content looks superb. 
Enjoy your games with the 16W stereo speakers which get surprisingly loud so that you don't feel the need of using an external soundbar. 
Performance:
Enjoy a longer lamp limp of up to 15,000 hours that accounts for a viewing time of 4 hours every day for an entire decade. The GT5600 is compatible with all of the best gaming consoles. 
Moreover, you can bring your Android or iOS smartphone to action by utilizing the screen-mirroring feature and displaying visuals on the huge screen.
Pros
Screen mirroring

Easy cable management

Eye-pleasing visual quality

Offers subpar solid built-in speakers
Cons
Lamp life could be better
Verdict:
Big gaming at a lesser price is what the Optoma GT5600 – a high-end home theater and gaming projector offer you. Overall, with all the fantastic features, it won't be unfair if we call this model the best ultra-short-throw projector for gaming.
Description:
The last product in today's list under the category of best ultra-short-throw projectors for gaming is the ViewSonic LS820. Stacked up with killer features, this model is an excellent deal and an excellent gaming projector. 
Features:
This projector would catch your attention quicker than any other model would because of its classic black appearance. Apart from that, this incredible projector for gaming with short-throw capabilities can produce up to a magnificent 150-inches large visuals. 
The projected image can transform your normal game session into a truly cinematic experience, thanks to this Best Ultra Short Throw Projector for 1080p that produce an image at a Full HD resolution. With the gorgeous image quality delivered, you would get the best experience in all genres of games with this device. 
3500 lumens of brightness along with SuperColor technology makes sure that you get the best visuals with accurate color reproduction and vibrancy regardless of the surrounding environment.
Now easily stream HD media and for other entertainment purposes and enjoy audio with the stellar speakers for a phenomenal value. 
Performance:
For outstanding performance, the projector utilizes a Phosphor laser light source that can shine bright for quite a long time i.e., up to 20,000 hours. In addition, a 1-year warranty for light source coverage and 3-years labor and parts coverage by the manufacturers offers you peace of mind.
Pros
Phosphor laser light source

Jaw-dropping visual quality

SuperColor technology

Great gaming experience
Verdict:
While looking for the best ultra-short-throw projectors for gaming, all you require is a brilliant visual quality with no lags and smooth visualization. Fortunately, the ViewSonic LS820 is an exact depiction of a powerful device with plentiful performance and a lower price tag.
Buying Guide FOR  A Best Ultra-Short Throw Projector For Gaming
To get the right yet best ultra-short-throw projector for gaming, there are a few factors worth your consideration. To find out about these, read our buying guide. 
1.) Resolution:
The majority of the UST projectors come with a 4K resolution however, many come with a native FHD resolution as well. You can also find some projectors that can broadcast 4K visuals by shifting the pixels from 1080p to 4K.
Note: DLP chip provides better pixel shifting along with excellent contrast.
2.) DLP vs LCD Based Short Throw Projector:
The ultra-short throw projectors are available in two types based on the projection technologies. DLP is based short for, Digital Light Processing whereas LCD is short for Liquid Crystal Display. 
The DLP-based short-throw projectors utilize micro-mirrors to display the visual on the screen. These are standalone and light models that produce reasonable picture quality. Remember, the rainbow effect in short-throw projectors is not good and that is what the DLP projectors are likely to produce. 
On the other hand, the LED-based short-throw projectors split the light into three colors that result in much vibrant, richer and gorgeous visuals. However, the downside of this technology is the relatively poor contrast ratio.  
3.) Projection Surface:
Remember, projection surface matters more with ultra-throw projectors therefore, make sure to look for this factor closely. Compared with long-throw models, the minor imperfections that are more evident can be bad for ultra-short-throw projectors. 
Generally, projectors work best in dark rooms with high-quality screens. If the projector is situated on a ceiling mount or behind you on a shelf a white wall will work just fine. 
While purchasing a UST projector, make sure that the device perfectly fits your living room configuration so that you get the best projection surfaces for the optimal picture. 
3.) Additional Features:
It is always better to dig in for some additional features that can enhance the overall functionality and performance. You can find many models with safety sensors to protect your eyes to prevent eye strain even after prolonged gaming sessions.
Remember, the ambient light-rejecting screen is perfect for gaming purposes and projectors with Enhance Gaming Mode gives you a best-in-class response time. 
Not to forget, triple laser design yields improved brightness as well as color range to provide you with the best-in-class visual quality. 
Ending Thoughts:
The best ultra-short-throw projectors for gaming bring along numerous benefits for every user. Despite being compact and having an ultra-short throw ratio, these devices are capable of producing visuals as large as 100-inches or even more. 
Since the UST projectors sit right up close to the screen, you won't notice the nuances of shadows and hence enjoy an uninterrupted gaming or movie session. 
With a vast variety of best ultra-short-throw projectors for most users, it gets difficult to choose your best match. Make sure you understand all the important factors so that the choice made would be right.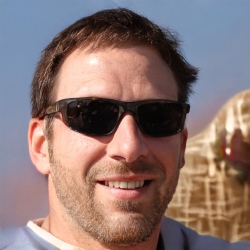 Latest posts by James Andrews
(see all)